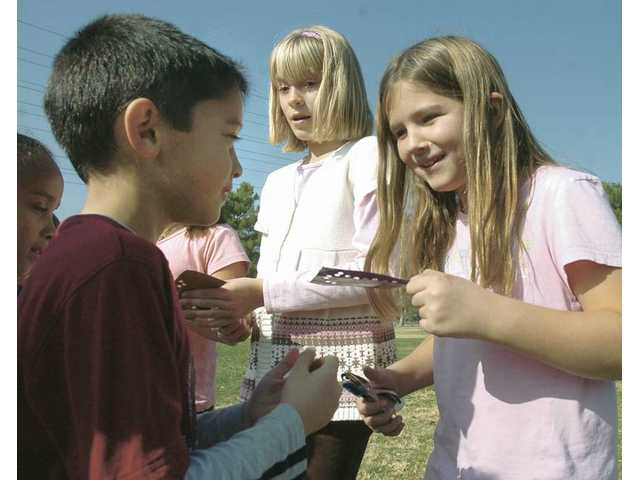 By Tammy Marashlian
Signal Staff Writer
tmarashlian@the-signal.com
661-259-1234 x525
Posted: Dec. 12, 2009 8:14 p.m.
POSTED Dec. 13, 2009 4:55 a.m.
Hardly any kids were playing tether ball. There were no lines for handball.
Music was blasting pop and dance tunes, but during a recent lunch period, the blacktop playground at Rosedell Elementary School was nearly empty.
The nearly 650 students were spending their lunch racing around the school's grassy outdoor track. It was
Mileage Club time
.
The program, which has caught on with a handful of local schools offering kids prizes for miles they run, is part of a greater push at changing the philosophy of physical education: Instead of focusing on competitive sports, educators want kids to simply enjoy exercise.
The program's success has paid off and the results can be seen in the state's annual physical fitness test given to fifth-, seventh- and ninth-grade students.
Kids at SCV schools — especially Rosedell — have improved overall, according to test results.
The tests measure six standards: aerobic capacity, body composition, abdominal strength, trunk extension, upper body strength and flexibility and categorize children by how many are in the "Healthy Fitness Zone."
In 2007-08, 61 percent of Rosedell fifth-graders were in the fitness zone for aerobic capacity, which is tested with a 1-mile run. This year, that number jumped to 95 percent.
The Saugus school has also seen strong improvements in the other five categories, with 85 to 98 percent of students considered fit and healthy.
"It's a huge physical exercise for them," Rosedell Principal Cory Pak said. "A lot of them understand it's fun to run and challenge themselves."
The school expects to collectively hit at least 5,000 miles this year.
A fresh look at fitness
Saugus Union School District is in the second year of a three-year federal grant that trains elementary school teachers on a new style of
physical education
that encourages staying active rather than competition.
"It has just been very, very well-received," said Joan Lucid, assistant superintendent of instruction and curriculum.
By the time the grant, worth almost $900,000 over the three-year period, expires, all 15 Saugus Union schools will be trained in the new style of physical fitness, she said.
The primary grades take part in activities that promote
motor skills
while older students play games that teach team work and keep them consistently active.
For instance, instead of playing the conventional football game, students are separated into three-person teams where students rotate throwing, hiking and running.
Students end up constantly exercising, rather than waiting for the ball to come to them, and learn the basics of the sport in a noncompetitive way, Pak said.
Pak has watched more students get involved in physical education classes.
"It's a life-long habit that I hope we create in our children," he said.
That attitude on the track comes into the classroom as teachers have watched their students become focused and alert during class time, he said.
And when students start to feel sluggish at their desks, Pak said it's common for teachers to guide students through a five-minute stretch to stimulate the body.
District-wide administrators have seen an overall improvement in this year's scores by about seven percent, Lucid said.
"We're seeing fewer kids that are not meeting the zero of the six standards," Lucid said.


Original Article Post.