Playground injury suit claims the school failed: 1) to intervene in improper use of playground equipment, 2) inadequate supervision, and 3) lack of procedures in place to ensure safety.
A 14 year old boy and his father are suing a Catholic School charging negligence related to the incident in which a 6th grade student fell from a play structure platform.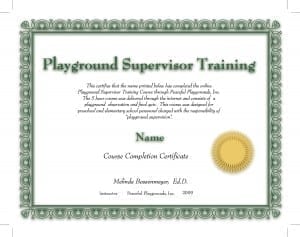 Playground Supervision Training is our most popular online training and certification course.
The Peaceful Playgrounds Online Playground Supervisor Training is designed to introduce administrators, teachers, substitute teachers, physical educators, parents, after school personnel, and playground supervisors to the responsibilities and techniques associated with keeping children safe on a playground. This online course will serve as a certified professional development experience.
This course details playground surfacing, play structure safety, and playground supervision.
The course highlights legal supervision responsibilities and "how to keep kids safe".
Playground Supervisor Training Course – Individual -$29.95 – Order Now!
Special Deal! – Register your entire School – $399.00 –
Order Now!